Register for BBL Fine Arts Academy
2017-2018 Fall & Spring Classes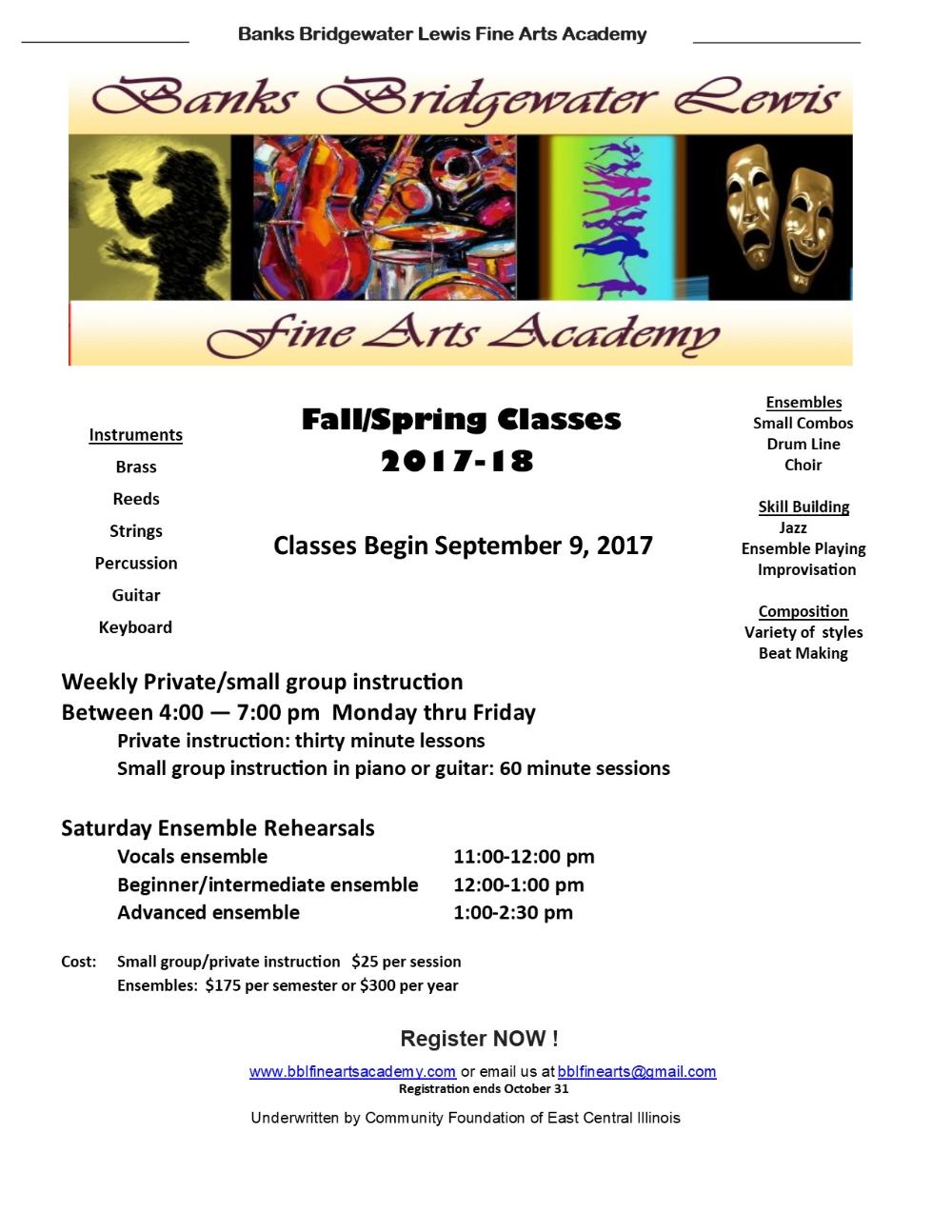 Fall Spring Registration
To Register for BBL Fall/Spring Classes go to:
Watch a few videos of our performances in the Explore tab
Support our mission and make a tax-deductible donation to our program
Contact us: bblfinearts@gmail.com
DETAILS OF SCHOOL YEAR 2017-18 INSTRUCTION:
Monday-Thursday
Individual and small group instruction beginners through advanced. Instruction includes one 30 minute lesson per week for beginning/intermediate students, and a 30-50 minute session for advanced students. Students will schedule their lessons directly with the instructor. We are in the process of identifying a jazz piano instructor for intermediate and advanced students. In general, instructor availability is as follows:
Deborah Banks: reeds, piano and vocals
Nathaniel Banks: brass, beginning guitar
Ron Bridgewater: reeds, improvisation
Abby Heras: piano, reeds
Robert Lewis: percussion
Gary Fowler, strings & guitar
Saturdays
This year, we will have four
Saturday
rehearsal activities one for students playing one year or less, intermediate for students playing 2-3 years, and advanced for high school students. There is a performing ensemble. Members will be chosen by audition. We will also offer vocal instruction to all ages on Saturdays.
Beginners/vocalists
11:00 - 12:00 noon
Intermediate
12:00 - 1:00 pm
Performing group
1:00 - 2:30 pm
Make your music
1:00 - 2:30 pma
Registration and Fee Structure:
This year, there is a separate cost for private/small group instruction and the Ensemble rehearsals on Saturdays. As in past years, there is a vibrant scholarship program available for families with financial need so that there will be no barrier to participation due to financial constraints. The fee structure is listed below.
PRIVATE/SMALL GROUP INSTRUCTION WEEKDAYS
ENSEMBLE INSTRUCTION ON SATURDAYS
Beginners

11:00 a.m. -11:45 a.m.

Intermediate band (2-3 years of playing)

12:00 p.m. -1:00 p.m.

Advanced small ensemble (3+ years of playing)

1:00 p.m.-2:30 p.m.
ENSEMBLE FEES*
Year Rate $300
Semester Rate $175
Special event Rate $25

*There are scholarships available see Register page for more information.
*Fees cover: teaching staff compensation, purchased music, instrument repair, performance equipment, BBL Fine Arts T shirt or performance polo shirt
Questions?
Contact: Nathaniel Banks at 217-369-6140
bblfinearts@gmail.com