Register for BBL Fine Arts Academy
2018 Summer Camp and Activities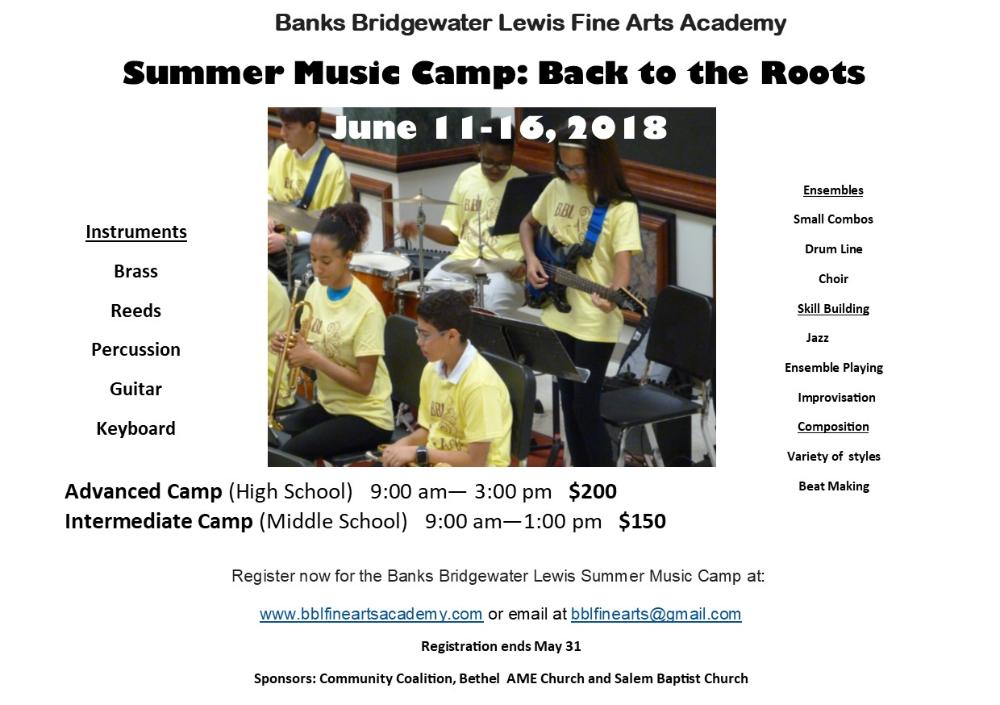 Summer Camp 2018 Registration
To Register for BBL Summer Camp go to:
Watch a few videos of our performances in the Explore tab
Support our mission and make a tax-deductible
Contact us: bblfinearts@gmail.com
DETAILS OF SCHOOL SUMMER 2018 ACTIVITIES:
DRUMLINE
Open to grades 8-12. No previous experience required.
Rehearsals 2-3 times per week during the months of June-August
At least 3 performances
SUMMER CAMP-Theme: Back to the Roots
Hours: 9:00 am- 3:00 pm Advanced, 9:00-1:00pm Intermediate
Held June 11-16 at Salem Baptist Church
PRIVATE INSTRUCTION AND BEAT MAKING
once a week for 6 weeks
Registration and Fee Structure:
DRUMLINE AND CAMP REGISTRATION FEE: $200
PRIVATE/SMALL GROUP INSTRUCTION WEEKDAYS $25 per session
Scholarships available. See Register Page for more information.

*Fees cover: teaching staff compensation, purchased music, instrument repair, performance equipment, BBL Fine Arts T shirt
Questions?
Contact: Nathaniel Banks at 217-369-6140 or
bblfinearts@gmail.com